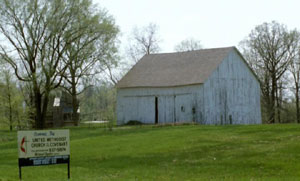 The United Methodist Church of the Covenant had its first worship service in March of 1980 in the gymnasium of Lincoln Elementary School on Cook Road. The church offices were in the yellow farm house that once stood where the east parking lot is now located.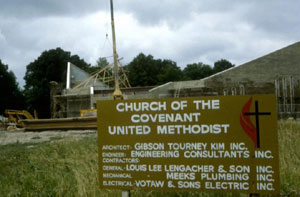 In October of 1980, 190 people signed the official church charter as charter members. Services continued at Lincoln Elementary School until October of 1983 when the first phase of our church home at 10001 Coldwater Road was completed. The second building phase was completed in 1992 which added a fellowship hall, classrooms and offices. During the summer of 1999 the sanctuary was enlarged to accommodate our growing congregation.
In January of 2005 the congregation approved a building expansion that added an educational wing to the west. There are classrooms, an office, and restrooms on the ground level floor that will add education space, primarily for children, but used by all. A basement level contains the COVE, a youth area that has a large fellowship area and two classrooms that are primarily used for middle school and high school classes.
Six pastors, two part time associates, a pastor-at-large, and a full-time Local Pastor have served Covenant throughout the years. Our founding pastor, Michael Snyder, served from 1980-1984. Ron VerLee was our pastor from 1984-1993 with Eric Foley and Steve Elliott joining us as part time associate pastors during part of that time. In 1993 Katherine Lehman arrived but left a short time later in 1995 to become a District Superintendent. Derek Weber was our pastor from 1995-2001 and during that time Harold Oechsle became our part time pastor-at-large. In June of 2001, Steve Conner became the pastor of Covenant . In June of 2002 Larry Saunders joined us as our first full time associate pastor. Pastor Larry served until May of 2005 when he was assigned to DeMott United Methodist Church as senior pastor. In 2005, Jan Funk completed her schooling to become a Local Pastor and was appointed to serve at Covenant UMC. Rev. Jack Scott led beginning in 2009. Rev. Karen Koelsch became the seventh senior pastor at Covenant and served 2012 through January 2021. We have had some exceptional Associate Pastors in recent years as well including Rev. Kara Bussabarger (2018-2020), Christi Murray (2020-2023), and Rev. Allison Yankey (2023-Present). In February 2021, Rev. Chris Nunley began his tenure as our newest Lead Pastor. Throughout our first 33 years, we have been blessed with pastors who have not only been gifted preachers of God's word but wonderful servants of God's love. Our present membership is 600+ and our average attendance is more that 500 during our two Sunday morning worship services available at both our Coldwater (In-Person) and Online Campus. Our 8:45am worship style is traditional, yet informal. The Connection service at 10:15am is a "come as you are" service that uses today's praise and worship music. We invite you to stop in, meet us, participate in our worship services, view our beautiful banners and stained glass, share some cookies and fellowship, and worship the Lord.